Love to spank it and play with those holes, no hands only my hard throbbing cock.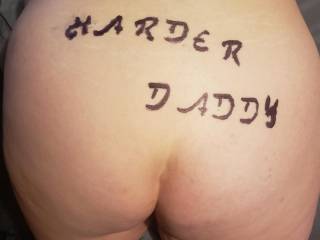 Mmmmmy favorite one position! I'm gonna grab that hot ass with my hands and start to lick gentle and hard rubbing up/down through your ass gap - your pussy and asshole, playing with clit, eat it all your sweet pussy, continue do tongue fuck and fingering your holes. Make your pussy very hungry to feed her deep fulfilled with my big very hard cock. 
I'm gonna drive you crazy and make you very wild.
You gonna groan, moan, roar, scream.
I'd (I'll) kneel and fixing your legs with mine or climb on your sweet hot ass, start teasing your ass and pussy rubbing up/down through your ass gap with dickhead of my big hard cock in my hand, then start to ride and drill you - first tease your holes with my dickhead do rubbing circles then slide shallow dickhead only, then stinging you in/out (pull your hair back, nibble your shoulders and neck), then ramming and drilling deep fulfilled you deep inside (of course if you like hard and rough sex). That will gonna be a wild ride. Perfect, love your kiss and lick every part of your body, suck your nipples, kiss and lick your thighs, eat pussy and have your ass hole for dessert, lick rim and push tongue so deep inside u. Very nice. I'll gladly lick you all over and get you dripping wet and ready to feel my cock pounding you hard and deep. Damn that is so fucking hot! Such a beautiful ass and sexy pussy! I would love to be behind you like that! Mmm I'll lick 👅 your pussy like that and surprise you when I twirl my tongue in your ass.